We have weekly Bible studies throughout the semester for students to come and enjoy the Word of God together. These group studies offer students the chance to sit down and ask questions in an environment that promotes mutual fellowship and learning.
ONE-ON-ONE APPOINTMENTS
Through one-on-one appointments, students receive a higher degree of personal care than might be available in a large group setting. Here, students can schedule a time to meet up with club staff or a fellow student to read through the Word, ask any questions, or even to simply receive individualized, practical help.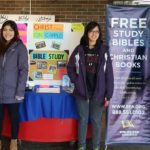 ANNOUNCING THE GOOD NEWS
We also like to go out and meet fellow students on the UIC campus and share Christ as the gospel!
CHICAGO AREA COLLEGE GATHERINGS
We have a great time of dinner, singing, and fellowship with students from our fellow Christians on Campus clubs at the Illinois Institute of Technology, Northwestern University, Roosevelt University, University of Chicago, among others around the Chicago area.
NEIGHBORHOOD ACTIVITIES
Tired of dorm food? Every week, we like to gather for home cooked meals in the nearby homes of families who support the club. This is a wonderful time to fellowship and enjoy Christ in a stress-free atmosphere!
SEMESTER CONFERENCES
Stay tuned! Weekend conferences with guest speakers will be available throughout the year. These are great times of singing and enjoying Christ with students from numerous campuses around Chicago and the entire Midwest!
SPRING BREAK TRIPS
We get the opportunity to meet other believers and are encouraged to pursue the Lord together! Joined by students from other campuses, we have fellowship and singing together. We travel to various cities, have recreation, and sightseeing together.
PRACTICAL HELP
We also enjoy helping each other with everyday things such as homework, transportation, and a listening ear.